Risks during a twin pregnancy
The information currently around the world is that out of every 80 pregnancies 1 turns out to be a twin, so it is good to be informed of the risks that can be had both for the mother and for the twins. This can give us greater security and allows us to find ways to be prepared for any scenario.
Above all, it is important to know the type of twin pregnancy you have, and you will wonder how important it is to know the type of twin pregnancy, and that is that according to statistical data, a type of twin pregnancy is more likely to have more risk or complications than another, and these are divided into.
Bicorial pregnancy – biamniotico
Which is the one that is less likely to have complications during pregnancy, the development of each twin will be independent, it will have its own placenta, and each one will form in its own bag
Monochorial pregnancy – monoamniotic
Unlike the other, it is more likely to have risks during the gestation of twins, and in the process of growth, the twins will be sharing both the placentas and the bag. 
We are going to describe the main risks that can occur both for the mother and for the twins.
Risk of twin pregnancy that can affect the mother.
Increased blood pressure, it is possible that prematurely the mother begins to have hypertension, these cases can be controlled through medications, globally between 15 and 20% of twin pregnancies have this case.

About 5-10% of pregnant mothers can get gestational diabetes

Cesarean section occupies a high percentage for twin pregnancies between 50 and 85%, mainly due to the positions that babies have within the mother, this method being safer.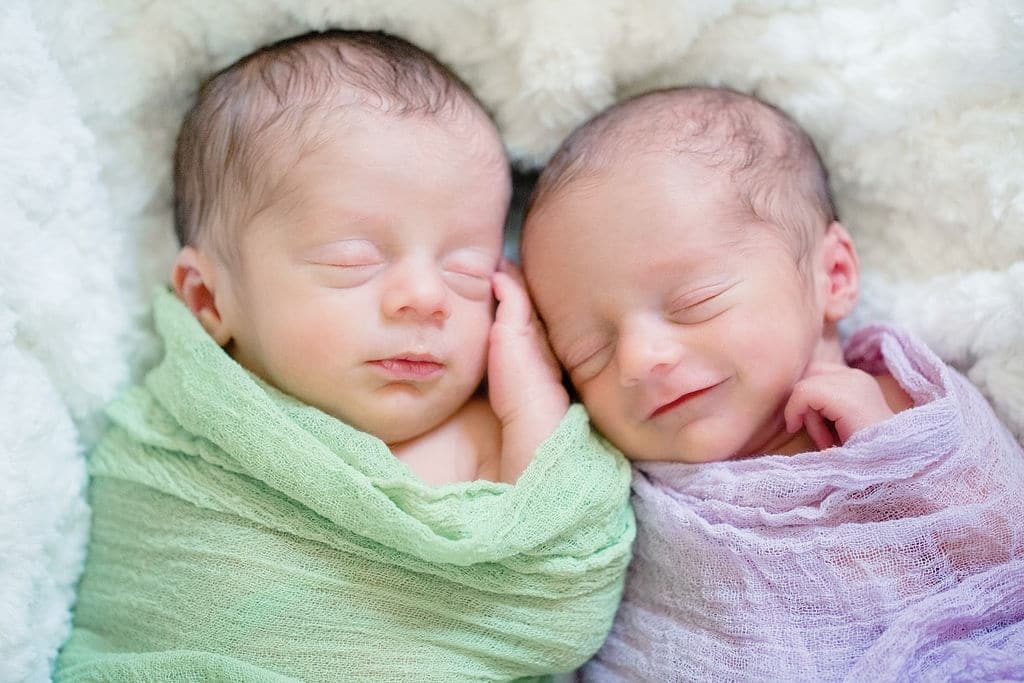 Average preterm labor in double pregnancies is high rates, lasting up to 37 weeks

As a result, several studies have shown that 40% of twin pregnancies begin to have symptoms of moderate or severe anemia.

We must also bear in mind that it is possible to have abortions in twin pregnancies, although there are no exact figures, it is known that these probabilities rise the more fetuses you are gestating.
Risks that can affect babies during a twin pregnancy.
The most common problems that can occur in a twin pregnancy, affecting babies, are related to premature births or, on the other hand, a delay in intrauterine growth.
Premature cases, 19% of twin pregnancies are born at 32 weeks or earlier, among those who have a weight not maximum than 1500 grams, they have a high probability of having health disorders, such as vision loss, brain retardation and loss auditory.

35% of twin pregnancies have growth difficulties in one of the two twins, and for both twins the probabilities are 15%
Of course, there will always be risks within pregnancy, and the best way to be prepared for all these risks is to have the correct specialists who will give you the best route to follow as well as the continuous check-up and studies, which will reduce all risks. that can always be present, that is why we wait for you in our Celagem Clinic which is trained from the technological area to the best prepared human capital for these moments, in Celagem you have the best team.